Get surrounded with top girls in your area!
By clicking the submit button above you expressly consent to our
Privacy policy
including processing of personal data and use of profiling to find you matches and you agree to our
Terms of use
, and to receive newsletters, account updates, offers sent by
SeniorsToDate
Log In
What You Need to Know on How to Attract Younger Women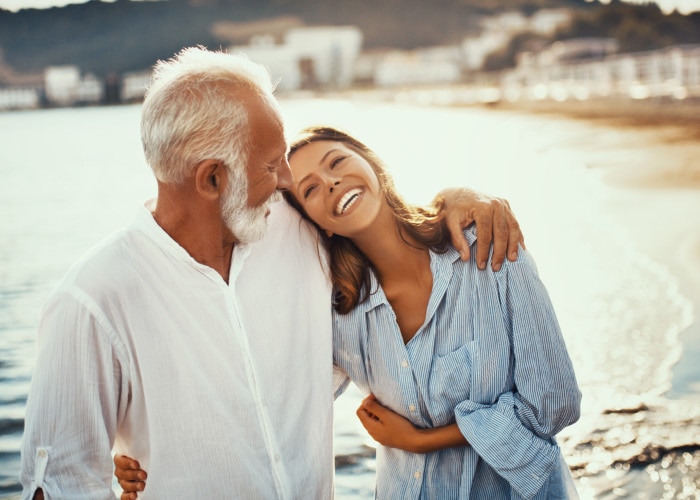 There is no doubt that dating younger women is a very interesting and new experience, especially if you are an older man. There are differences that do not work to divide you but actually bring you together. You may have a lot of experience and knowledge, and she may be younger and vibrant. Either way, you have lots to learn, and this could be the start of something really special and exciting. It may be your first encounter with a younger woman, or you may be looking to have your first experience with someone amazing and younger, and there are some important need-to-knows that can really help guide you into dating younger women and having the time of your life.
Important Reasons Why Girls Like Older Guys
It is a known fact that there is a multitude of younger girls who are into distinguished and mature men like yourself. To them, men like you have so much to offer. You are different not just because of your age but all that is represents. It is more than just surface level, and your age signifies so much. In fact, it heightens everything a woman typically looks for in a man. For instance, women like the idea of a man who can make them feel safe and secure; being a mature male means that you have a better and more sophisticated knowledge of what it is to protect a woman and make her feel secure. Moreover, younger women who prefer mature men typically gravitate towards this demographic because of all you have to offer them in regards to experience. There is a common assumption that an older man knows the ropes a bit more and can bring a level of excitement that a younger and may not understand, let alone bring. Overall, younger girls love the idea of a distinguished older guy who can carry himself well and promises excitement and fun in a way they have never seen or experienced.
Why Some Older Men Prefer to Date Younger Women?
As an older guy, you may have a preference for younger women and question why. There are a plethora of reasons as to why you and so many other singles like you want to dip your feet in the pool of youth females. Some of the more general explanations lay behind the kind of experience one can have when dating a young girl. You both bounce off each other; she likes mature men like yourself, and you enjoy the company of a young and exuberant woman like herself. The difference between both of you opens up an opportunity for something new, exciting, and sometimes unfamiliar. This is not to say that dating within your age range is not as exciting, but the nuances between different age groups are what older men tend to enjoy. Younger women who are into older men tend to gravitate to them because they can provide experiences that a younger guy may not be able to naturally. This is one thing that older men love, a vibrant young woman who looks to them for a deep connection as well as an intriguing dating life that only dating an older guy could bring.
How to Attract Younger Women in No Time At All?
When thinking about how to approach and even attracting single young women, it may feel like that it is an incredible feat that you just cannot conquer. However, we are here to show you why it is not difficult at all. It is simply a matter of confidence, understanding, building common ground, and being yourself. When you master all these elements, you can get to meet an amazing young woman in no time at all. Being confident is absolutely imperative; it is what encapsulates the idea of a distinguished and mature personality; young women notice how you carry yourself. So whilst being yourself, make sure that you carry this confidently, and you will meet someone amazing in such a short time. Furthermore, fostering a good understanding of yourself and your love interest. Think about what it is she is looking for in a single like you and ensure that you have an understanding so that you find your fit easily. Lastly, building common ground through introductory conversations. As much as younger women love dating older men, one cannot take away from the fact that a young single woman has the mind of a young single person. The things that typically appeal to her age group may also appeal to her, so let her know that you share an interest in these things. Acknowledge things that you know she maybe passionate about, and this is an amazing way to build some common ground with beautiful younger women.
You may be an older guy looking to date a younger woman, and this is more than achievable when you set your mind to it and follow the right steps. It is not impossible to approach and hit it off with a younger woman. Start flirting and chatting with some of the most interesting young women you will ever meet online and in-person when you get to understand how younger women think. Most importantly, remember that the same way you love dating younger women, they are also into you just as much, and that is another reason to hit it off with that perfect lady. Younger women love the way an older man carries himself with confidence and the fact that an older guy usually has so much to offer. There are potentially new experiences for them but also the chance to have new experiences for you also!