Get surrounded with top girls in your area!
By clicking the submit button above you expressly consent to our
Privacy policy
including processing of personal data and use of profiling to find you matches and you agree to our
Terms of use
, and to receive newsletters, account updates, offers sent by
SeniorsToDate
Log In
Read Some Good Advice on How to Tell if a Girl Is a Lesbian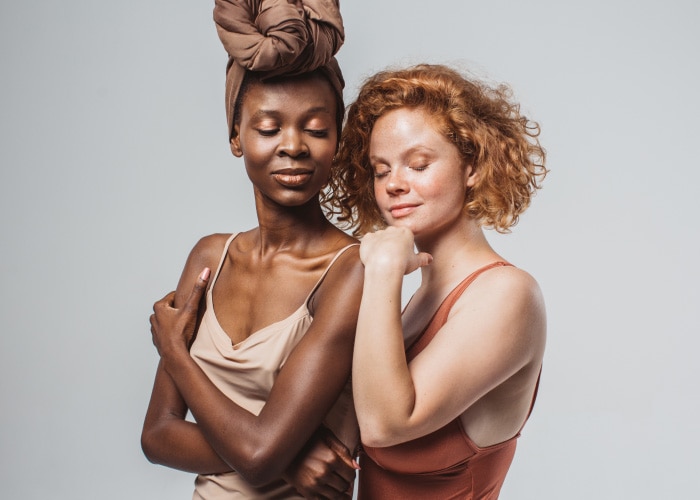 Many older women who are new to dating may suspect that they are gay or be interested in knowing more about how to tell if a lady is a lesbian. The world of love and romance is, happily, much more open, accepting, and diverse than it used to be. The team at seniorstodate.com has created this helpful blog to dating and lesbianism in modern times.
Do You Think You Might Be a Lesbian?
Women arriving on the dating scene after a long-term marriage may have long wondered if they are gay. Have you always had sexual feelings for female friends and colleagues but chose to smother them? Did you have a happy marriage but felt that, deep down, something was missing or wrong? Maybe you adore guys but have the same kind of emotional connections with women. Seniorstodate.com is here to help you explore your curiosities. As an older woman, it could be time to enjoy a completely new way of life, one that you have always dreamed of.
Signs that a Woman Is Gay But Hasn't Come Out Yet
Our online dating website has a large, supportive, and friendly community of members. We welcome gay men, heterosexuals, lesbians, and bisexual people. They are all on our fantastic safe, secure, and discreet website for the same reason; they are single and searching for meaningful romantic connections.
So, how can you tell if the lady that you're chatting to is a lesbian? If she is confident and happy with her identity, then she will just tell you. Mature people don't waste time and energy. If you're a guy, she'll be open and encourage friendship rather than romance; if you're a woman, she'll probably expect you to be honest about your sexual orientation too, and you'll build a relationship from there. Potentially, a woman who has been a wife will be very, very nervous about admitting how she feels. Here are a few tips on what to look for:
She will avoid questions about sexuality and won't offer a straight answer. Follow your gut feeling. However, if a lady you're chatting with is conflicted and undecided, make sure you don't get hurt.
Flirting will have a tone of nervousness, and she'll look for reassurance that she is saying the right things. Be responsive and encouraging.
Messages will come in waves as her courage fluctuates. You may find her disappearing days after the chat has turned to sex, a potential date, and emotions.
How to Attract a Beautiful, Clever and Kind Lesbian Lady
At seniorstodate.com, we always encourage a culture of honesty, kindness, and openness. We want our users to enjoy using our site, and that can only happen if everyone knows where they stand. This might sound like a simple, basic principle, but it's one we believe is missing from many other dating sites. Attracting a gorgeous lady will begin with your online dating profile. This is our advice:
Pick a cute picture of you. Make sure you're smiling and don't choose a picture that includes other people. A recent picture with minimal filtering (no bunny ears!!) and which reflects your personality is perfect.
Include lots of detail. Part of the service at seniorstodate.com is finding our members the perfect partner with our innovative search tool. What you tell us will determine who we match you with. Location, age range, interests, life goals, and the kind of relationship you're searching for will all be thrown into our magical matchmaking machine.
Show how interesting, fun, and amazing you are. If ever there was a time to boast a little, it's now. If a lady who shares your passion for long countryside walks is your dream, then include that hobby in your profile. Finding a like-minded girl to enjoy life with will help turn casual dating into a long-term, healthy romance.
Dating Advice for Gay Women
You should show patience and understanding to the women you chat with. A woman who has been out as gay for many years will find meeting a new love much easier than someone who is struggling to come to terms with her new identity. When you're in the chat rooms on seniorstodate.com, have fun, be yourself and, if you have the confidence, talk freely about your sexuality. Tell funny stories, share advice, and be generally friendly. Making people smile and feel good about themselves is super sexy! A more mature lesbian will often have an ex-husband and children. Years ago, admitting you were a gay woman was often too difficult. If you were one of the ones who were lucky enough to feel supported and courageous, then don't judge others for choosing differently. A ready-made family might just be a fantastic addition to your life, so embrace it. Never force public displays of affection with your new girlfriend. There's no reason why you shouldn't hold hands and kiss while on a date, be proud! But do respect the feelings of nervousness your partner might be feeling. Choose exciting, fascinating, and joyous places to go on your dates. Finding love later in life is something that should be celebrated. Seniorstodate.com will match you with site members who live locally and enjoy the things you do, so it should be easy to find something you're both thrilled by. So, whether you're a lesbian who has been out and proud for years or a woman who has long suspected that you are gay and are beginning to experiment – head to seniorstodate.com to meet new friends and lovers. As word of our success at finding our members their dream dates spreads, the site continues to grow. Don't miss out! The team and our wonderful community of members can't wait to meet you.